Certificate IV in Circus Arts
Intake 2024 open now
course overview
One year study
Certificate IV in Circus Arts provides aspiring circus artists with an introductory experience into high performance circus arts training. It is a highly disciplined and structured program with a great deal of scope for creativity.
Core foundation training includes strength and conditioning, flexibility, acrobatics and handstands. Students focus on their own area of specialisation and develop communication, trust and performance skills through group and partner work. A major ensemble circus performance is staged at the end of the year.
For many graduates this course is a great springboard into work in the performing arts industry, including community and contemporary circus, stunt work, theatre arts, dance, and technical production. Alternatively, graduates are equipped with the knowledge and skills to audition for the Bachelor of Circus Arts.
major studies
Foundation skills in circus including group acts, individual circus specialty, performance and movement, body awareness and fitness preparation for circus performers, applied practices for circus performers and traditions and trends of circus. The skills and knowledge encompassed in the program have been identified by industry professionals as the essential elementary introductory skills in circus, suitable for anyone wishing to undertake work in community or recreational circus, or in circus-based school activities, such as: core circus foundation skills performer, ensemble member, or assistant in properties and bump in/out.
Course code: 10824NAT CRICOS provider code: 00111D CRICOS course code: 0101877
contact hours
20 hours per week for 36 weeks (approx.)
Training is scheduled between 8.30am and 6pm Monday to Friday.
ideal for
Those seeking a one-year circus experience or those who wish to acquire more specific circus skills training.
Students preparing for the Bachelor of Circus Arts.
entry requirements
Audition, physiotherapy assessment and year 11 or equivalent.
Applicants should have a background in performing arts, physical theatre, youth circus, dance, acrobatic sports, or gymnastics.
how to apply
3 stages
Application and auditions information for the 2024 intake of Certificate IV in Circus Arts will be announced soon.

submit your application
Submit your application through Swinburne University. At this stage, you will need two forms of ID. We may contact you if we need additional documents.

be invited to audition
If you meet the eligibility criteria, you will receive an offer to audition and instructions on how to submit your video audition and medical assessment or an invitation to attend an audition.

receive an offer
If successful you will receive an offer to study either a Bachelor of Circus Arts or Certificate IV in Circus Arts at NICA in 2024.
auditions
What to expect
Auditions for entry into NICA's accredited courses are held in late September - early October annually. More information about this year's audition process is coming soon.
We want to know about your discipline/s: Circus, Gymnastics, Dance, Tricking, Parkour, Theatre
We want to see your specialty skills
We want to measure your strength
We want to measure your flexibility
We want to see you perform
We want to hear about your journey to date and your future ambitions
We will assess your physical condition and discuss pre-existing injuries and injury management
There is a one-off administration fee of $50.00. You will also need to invest some time into collecting medical information, thinking about your performance and writing a brief description for the audition panel, and preparing physically, based on the video audition guides and the NICA video application guide.
You can warm up for your audition by attending our Audition Masterclass. A one-day intensive workshop designed to assist applicants to prepare.
P.s Don't be alarmed if you can't perform all of these skills yet, we are looking for your potential as a circus performer.
Sign up to NICA Ed - Inside Track
And receive audition updates straight to your inbox.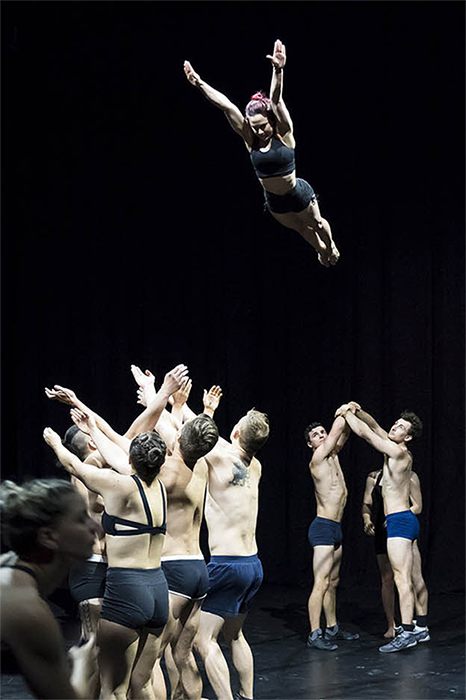 student support
Swinburne University
A student enrolled in one of NICA's accredited courses is also a Swinburne University student with access to support services provided by Swinburne University.
NICA staff have worked with some of the greatest circus companies in the world including: Circus Oz, Circus Royale, Cirque du Soleil, Great Moscow Circus, Legs on the Wall, Circa and Shanghai Acrobatic Troupe.
Students have access to NICA's purpose-built circus training studios, performance spaces, drama and movement studios, equipment, costume storage spaces and dressing rooms.
NICA students are also supported by a specialised health team comprising a physiotherapist, sports doctor and sports psychologist.
meet the trainers