course overview
Three year degree
The Bachelor of Circus Arts equips students with the skills, networks and knowledge to establish a career on the world stage of circus and physical theatre through immersive and experiential practice-based studies in contemporary circus arts. It is the highest level of accredited circus training in Australia and NICA is a world leader in circus education and training.
Within NICA's world-class facilities, a supportive faculty of talented artists and practitioners teach an innovative curriculum to instill technical excellence and to enable each creative artist to flourish. Students get to develop their performance skills in a variety of settings within NICA's unique suite of performance venues, which combine large-scale, professionally equipped spaces with more intimate studios.
Students not only sharpen their technical skills through individual instruction but also learn how to develop professionally as performers. The aim is a viable and sustainable career future in the performing arts.
major studies
Circus arts specialisations in two apparatus or disciplines; performance and movement studies including: ensemble performance and technical aspects of circus production; and academic subjects in: anatomy and biomechanics; history and culture of circus arts; the business of circus; the contemporary circus industry; and music and circus.
Course code: BA CIRCA1 CRICOS provider code: 00111D CRICOS course code: 078080F

After more flexible options? Explore our Certificate IV course
contact hours
3 years full time.
Classes are scheduled Monday to Friday between 8.30am and 5.30pm.
ideal for
Skilled artists in their field looking for the platform into the industry or emerging circus artists seeking a qualification.
entry requirements
Audition, interview, physiotherapy assessment and year 12 or equivalent.
Applicants should have a background in performing arts, physical theatre, youth circus, dance, acrobatic sports, or gymnastics.

submit your application
Submit your application through Swinburne University. At this stage, you will need two forms of ID. We may contact you if we need additional documents.

be invited to audition
If you meet the eligibility criteria, you will receive an offer to audition and instructions on how to submit your video audition and medical assessment or an invitation to attend an audition in person.

receive an offer
If successful you will receive an offer to study either a Bachelor of Circus Arts or Certificate IV in Circus Arts at NICA in 2024.
auditions
What to expect
Auditions for entry into NICA's accredited courses are held in late September - early October annually. More information about this year's audition process is coming soon.
We want to know about your discipline/s: Circus, Gymnastics, Dance, Tricking, Parkour, Theatre
We want to see your specialty skills
We want to measure your strength
We want to measure your flexibility
We want to see you perform
We want to hear about your journey to date and your future ambitions
We will assess your physical condition and discuss pre-existing injuries and injury management
There is a one-off administration fee of $50.00. You will also need to invest some time into collecting medical information, thinking about your performance and writing a brief description for the audition panel, and preparing physically, based on the video audition guides and the NICA video application guide.
You can warm up for your audition by attending our Audition Masterclass. A one-day intensive workshop designed to assist applicants to prepare.
P.s Don't be alarmed if you can't perform all of these skills yet, we are looking for your potential as a circus performer.
Sign up to NICA Ed - Inside Track
And receive audition updates straight to your inbox.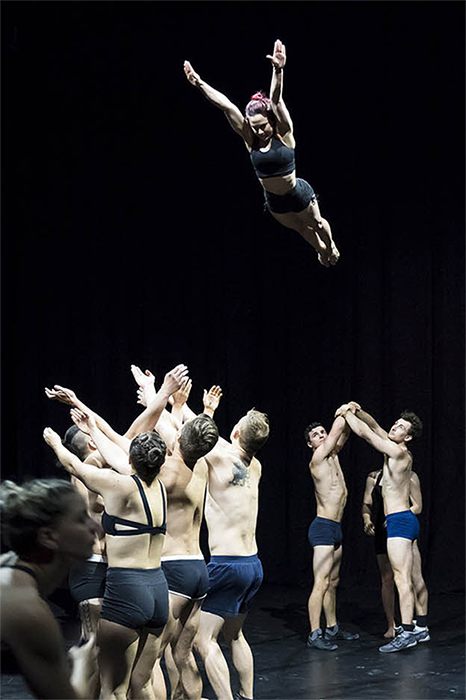 student support
Swinburne University
A student enrolled in one of NICA's accredited courses is also a Swinburne University student with access to support services provided by Swinburne University.
NICA staff have worked with some of the greatest circus companies in the world including: Circus Oz, Circus Royale, Cirque du Soleil, Great Moscow Circus, Legs on the Wall, Gravity & Other Myths, Circa and Shanghai Acrobatic Troupe.
Students have access to NICA's purpose-built circus training studios, performance spaces, drama and movement studios, equipment, costume storage spaces and dressing rooms.
NICA students are also supported by a specialised health team comprising a physiotherapist, sports doctor and sports psychologist.
The NICA medical team recently completed an extensive study on shoulder injuries, which was published in several international journals. As of February 2023, they have commenced a study on hip injury and prevention.

meet the trainers